Addressing Cardiometabolic Health Inequities by Early PreVEntion in the Great LakEs Region
Image

Compelling evidence indicates that the key to increasing lifespan equality is saving lives at ages below ~70 years. The Addressing Cardiometabolic Health Inequities by Early PreVEntion in the Great LakEs Region (ACHIEVE GREATER) Center is designed to ameliorate cardiometabolic health disparities during early phases of pathogenesis in order to improve Black-White lifespan inequality in two uniquely comparable, densely populated, and severely affected cities: Detroit, MI, and Cleveland, OH.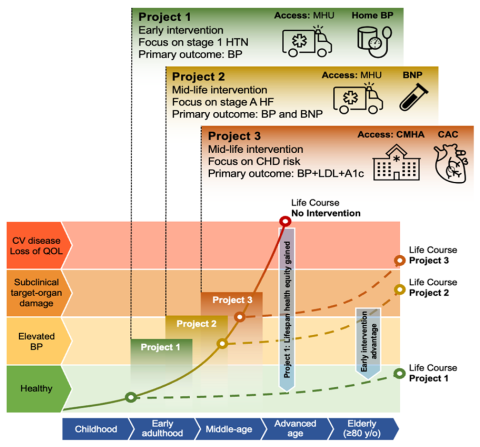 The ACHIEVE GREATER Center is a collaboration between three research institutions: Wayne State University, the Henry Ford Health System, and Case Western Reserve University/University Hospitals. The Center is performing three distinct but closely-related research projects that focus on interrupting early stages of pathogenesis in different contexts (e.g., mobile health units versus fixed community locations). Importantly, this work will be nested in a larger epidemiologic study of multi-level cardiometabolic risk factors, and the Center is developing a cloud-based database that will enable investigators to robustly profile multi-level risk factors across different domains in the region.
Publications
Levy P, McGlynn E, Hill AB, Zhang L, Korzeniewski SJ, Foster B, Criswell J, O'Brien C, Dawood K, Baird L, Shanley CJ. From pandemic response to portable population health: A formative evaluation of the Detroit mobile health unit program. PLoS One. 2021 Nov 30;16(11):e0256908. doi: 10.1371/journal.pone.0256908. PMID: 34847164; PMCID: PMC8631611.
Brook RD, Dawood K, Foster B, Foust RM, Gaughan C, Kurian P, Reed B, Jones AL, Vernon B, Levy PD. Utilizing Mobile Health Units for Mass Hypertension Screening in Socially Vulnerable Communities Across Detroit. Hypertension. 2022 Jun;79(6):e106-e108. doi: 10.1161/HYPERTENSIONAHA.122.19088. Epub 2022 Mar 16. PMID: 35291803; PMCID: PMC9093230.
Brook RD, Scirica BM, Levy PD. "The Doctor Is Out": New Tactics and Soldiers for Our Losing Battle Against Hypertension. Circulation. 2022 May 31;145(22):1629-1631. doi: 10.1161/CIRCULATIONAHA.122.059674. Epub 2022 May 31. PMID: 35639852.
Partner Institutions
SVG
SVG
SVG
SVG
Team
Leadership
Projects
Cores
Working Groups
Partner Institutions