ACHIEVE Heart Failure (HF)
Project Period:
01/18/2023 - 09/30/2027
Diseases or Conditions Being Studied
Heart failure, hypertension
Communities of Focus
Black/African Americans 18 years of age and 
Study Site
Detroit, Michigan, and Cleveland, Ohio
Study Objectives
Reduce cardiometabolic health disparities and downstream Black-White lifespan inequality in two cities: Detroit, Michigan, and Cleveland, Ohio.
Intervention or Treatment
PAL2: Community health worked based intervention to mitigate psychosocial and life circumstance barriers to optimize health promotion coupled with high blood pressure and lifestyle disease state education
PHARM-PAL2: All intervention arm participants will be referred to our study pharmacist who will prescribe a antihypertensive medication as per standard of care medical treatment algorithm to achieve BP control.
Abstract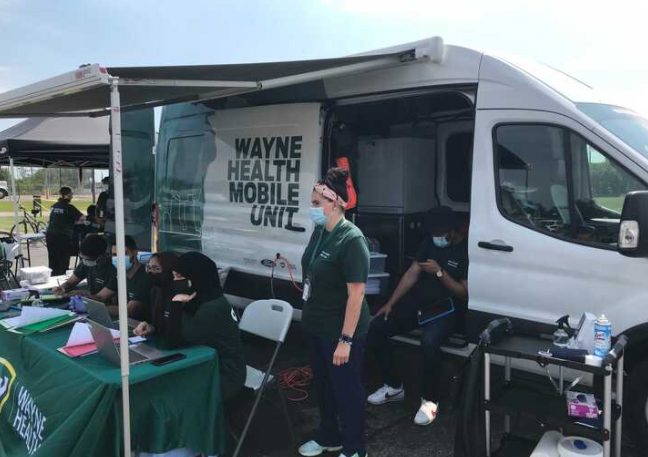 Heart failure (HF) is one of the most common, costly, and deadly diseases affecting humans. Hypertension is the largest single risk factor for HF, accounting for over half of all new cases. Moreover, Black adults with hypertension have a much greater risk, perhaps 20-fold, of developing HF compared with White adults. Accordingly, early interventions to prevent HF, in particular blood pressure (BP) control, are critical. However, implementation of effective treatments remains suboptimal among Black communities, especially in low-income urban settings.
While many factors are involved, mounting evidence shows that adverse social determinants of heath (SDoH) such as poor access to healthcare, food insecurity, and lack of safe places for physical activity are critical barriers to the implementation of recommended therapies. To achieve health equity, improved strategies must be developed to overcome these negative SDoH. To better engage our at-risk community, our team developed an innovative mobile health unit (MHU) program that uses geospatial health and social vulnerability data to direct health services to communities in highest need, who may not otherwise engage with traditional health care settings. Another key to preventing HF is usage of guideline-directed medical therapy (GDMT), not only for treating high BP, but also providing medications proven to reduce HF incidence. In particular, inhibitors of sodium-glucose transporter type 2 (SGLT2) prevent HF and loss of kidney function in at-risk patients and recent data suggests enhanced benefit in Black patients. Yet, these are dramatically under-utilized in Blacks, further contributing to health disparities.
In Project 2 of ACHIEVE GREATER (Addressing Cardiometabolic Health Inequities by Early Prevention in the Great Lakes Region) we will use a pragmatic, randomized, unblinded, clinical trial to implement and test a novel intervention leveraging our MHU platform to improve care access combined with enhanced collaborative care delivery among Black patients with Stage A HF (defined as asymptomatic individuals with known pre-conditions such as hypertension who are at-risk for later-stage clinical HF). The key components of our program are 1) a personalized intervention conducted by community health workers that addresses SDoH by linking patients with available community and social resources, and 2) pharmacist-directed therapy optimization per a standardized GDMT protocol. This intervention will address multiple domains and levels of impact to reduce the large gaps in care of stage-A HF patients in the Black community and prevent progression towards symptomatic HF.
Publications
Brook RD, Dawood K, Foster B, Foust RM, Gaughan C, Kurian P, Reed B, Jones AL, Vernon B, Levy PD. Utilizing Mobile Health Units for Mass Hypertension Screening in Socially Vulnerable Communities Across Detroit. Hypertension. 2022 Jun;79(6):e106-e108. doi: 10.1161/HYPERTENSIONAHA.122.19088. Epub 2022 Mar 16. PMID: 35291803; PMCID: PMC9093230.
Brook RD, Scirica BM, Levy PD. "The Doctor Is Out": New Tactics and Soldiers for Our Losing Battle Against Hypertension. Circulation. 2022 May 31;145(22):1629-1631. doi: 10.1161/CIRCULATIONAHA.122.059674. Epub 2022 May 31. PMID: 35639852.