FRESH Delivers: An Innovative Approach to Reducing Tobacco Use Among Rural Black/African American Smokers
Project Period:
09/24/2021 - 06/30/2026
Principal Investigator: Pebbles Fagan, PhD, MPH, University of Arkansas for Medical Sciences
Abstract
Image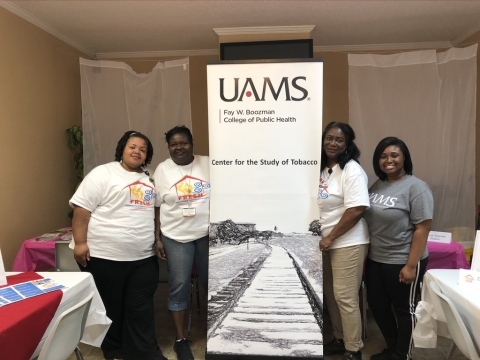 Blacks/African Americans have the highest cigarette smoking-attributable cancer mortality rates in the United States. Cigarette smoking is nearly double the national average (23%-26%) in Arkansas rural counties where more than 48% of the population is Black/African American. Social structural stressors such as persistent poverty, low educational attainment, high rates of unemployment, the COVID-19 pandemic, poor transportation, poor access to health care, and historical oppression pose tremendous barriers to successful quitting.
Quitting smoking can substantially reduce cancer morbidity and mortality among African Americans, but successful quitting as well as the reach of evidence-based interventions to rural African Americans is alarmingly low. Few studies have empirically tested the efficacy of social structural interventions (home-based food delivery) that address the dynamic interplay of cancer risk behaviors, like smoking, and social factors that perpetuate disparities like food insecurity. The long-term goal of this study is to fill a critical gap in knowledge on the role of social structural interventions in the elimination of cancer health disparities in low resource rural Arkansas counties with high proportions of Blacks/African Americans and high smoking prevalence.
Specific Aims
Our aims are to:
1) Test the efficacy of a social change intervention (home-based food delivery) on smoking abstinence using a 3-armed randomized controlled design.
2) Examine changes in measures of cigarette abuse liability.
3) Examine the extent to which home-based food delivery improves recruitment and retention of Black/African American smokers in the treatment conditions.
Image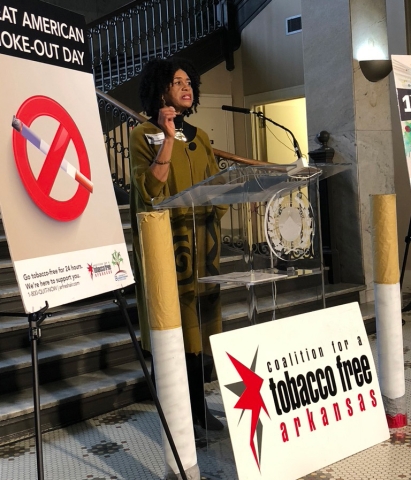 Our academic-community partnership – the University of Arkansas for Medical Sciences, Coalition for a Tobacco Free Arkansas, and the Arkansas Foodbank – has a strong collaborative foundation and experience in working together to reduce tobacco use in rural Arkansas Delta counties with high proportions of Blacks/African Americans. Multilevel interventions are needed to address persistent social conditions that potentially increase the abuse liability of smoking and impede successful quitting. Smokers who are more food insecure are less likely to quit smoking.
Our multidisciplinary team will use the Socioecological Model to test our central hypothesis: smokers who receive evidence-based real-time video-based motivational counseling and a social change intervention (home-based food delivery) will have greater cotinine-verified 7-day point prevalence abstinence than those who receive motivational counseling alone or social change alone. Social structural interventions that meet the immediate social needs of Black/African American smokers hold tremendous promise for improving Black/African American recruitment and retention into helpful cancer prevention community trials, increasing successful quitting, and reducing social disparities that perpetuate tobacco-caused cancer disparities.
Team
Pebbles Fagan, PhD, MPH




Principal Investigator

Katherine Donald




Executive Director, Coalition for a Tobacco Free Arkansas

Dina Jones, Ph.D




Co-Investigator

Ruofei Du, Ph.D




Co-Investigator

T. Elaine Prewitt, DrPH




Co-Investigator

Mohammad Orloff, Ph.D




Co-Investigator

Sandilyn Bullock, MPH




Project Director

Heather Robeson




Lab Technician

Maher Alsaadi




Research Assistant

Latonya Rucker




Clinical Research Coordinator II